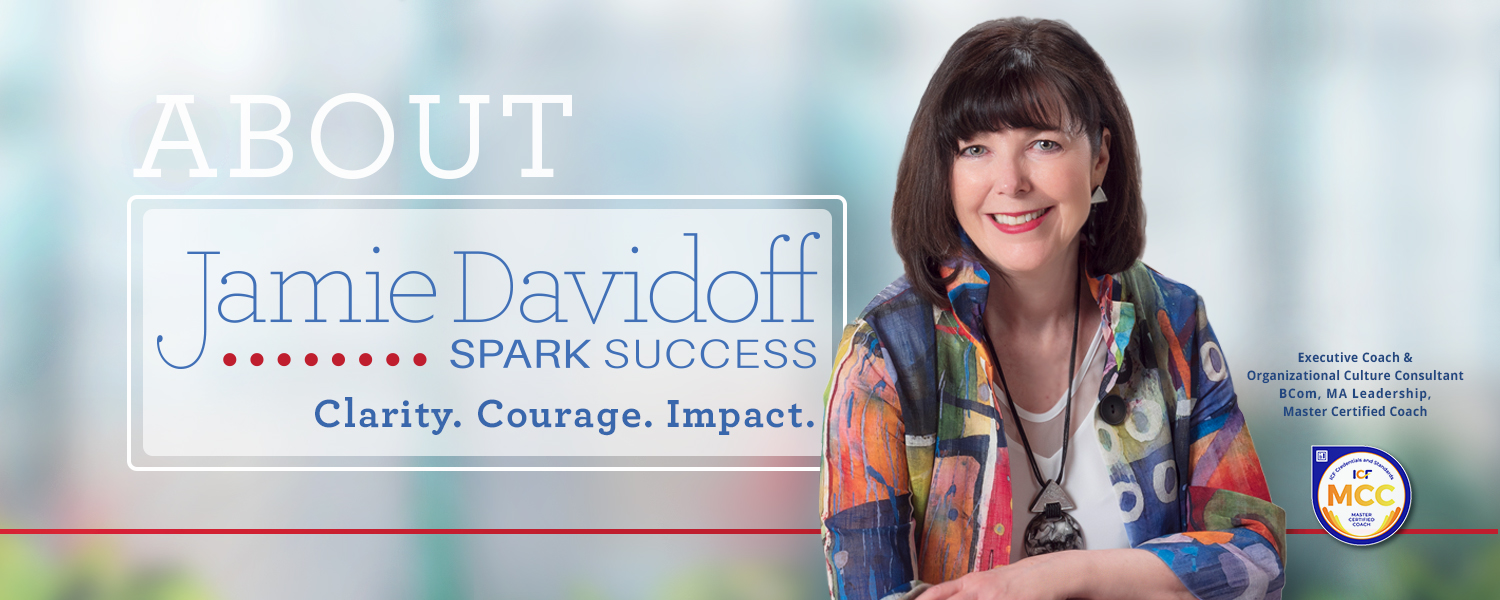 Jamie Davidoff, BCom, MA Leadership, is an Executive Coach and Organizational Culture Consultant. She coaches, consults, and facilitates. Jamie is committed to working collaboratively with clients to create the required momentum and energy to move forward with clear strategy, alignment and sustainable action. She believes that the development and growth of people and leadership contributes to organizational benefits such as attraction, retention, engagement, innovation, stakeholder relationships, and business results.
Prior to coaching, for 12 years, Jamie served as VP of a commercial real estate development and management company and 5 years with IBM Canada. As VP, she was a leader in the successful growth of the organization; led operations, executed on the vision, and mentored the team to achieve corporate goals and objectives; acted as interim President; led due diligence and in house legal matters; and managed budgeting, investor reporting and tenant relations.
As an entrepreneur and external coach, who has founded and led her own coaching business for 20 years, Jamie has worked in a wide variety of industries including engineering, information technology, pharmaceutical,  real estate development and construction, automotive, and services. Coaching has included executive and leadership coaching, organizational and culture coaching, team and client engagement, and group and team facilitation. She is also on the Faculty of Coach U, Inc. and co-facilitates Leverage for Leaders.
Jamie has been an active volunteer through her career. She was President of Uptown 17th BRZ, Director with the ICF Calgary Chapter, and a member of the ICF Global Standards and Ethics Committee. Currently, Jamie co-leads the ICF Leadership Perspectives Community of Practice.
Jamie holds a B.Com. degree from the University of British Columbia and MA Leadership from Royal Roads University. She also holds the Master Certified Coach credential through the International Coach Federation and the Board Certified Coach credential through the Center for Credentialing & Education. She is a graduate of the Advanced Corporate Coaching Program at Coach Inc. In addition, she is certified in the MBTI, EQ-i 2.0 assessments, and uses DiSC. Jamie is a Certified Positive Intelligence Coach, Certified Barrett Values Centre Consultant, and Certified Dare to Lead Facilitator.
… harnessing the passion of people to create organizational success!
I was facing a turbulent time in my organization and felt ill-equipped to effectively deal with challenges and issues. I remembered talking to Jamie and that she had expertise in the area of developing organizational culture so I contacted her hoping she would be able to help me.
I was managing a staff of 8, 1 of which was not happy with my leadership and had significant influence over the other 7. The environment was toxic and it seemed an impossible task to turn it around.
Jamie provided me with step by step assistance to overcome my hurdles. She was very skilled at isolating questions to ask me and knew just how and when to help me come up with my own solutions and answers.  Not only did she help with the situations I was facing, she lifted me up to see the bigger picture and helped me develop myself personally and professionally.
In one year we have: had a 43% increase in customer population; gone from a large shortfall in the budget to a very stable budget; had an increase of staff accountability and buy in from 1 to 8 on a scale of 10; developed a strong, trustworthy  management team; established 5 new major initiatives; increased connections and relationships from 1 to 8 on a scale of 10; improved our organizational culture significantly thanks to working with Jamie on Values Alignment initiatives with the staff; a staff that is more cohesive, transparent and invested and a clientele that is more satisfied and is continuing to increase in number.
– A.C.
When I became the Managing Broker of RE/MAX Ocean Pointe Realty, it became evident very quickly that we needed some professional coaching to reset our corporate culture to give our Realtors the very best chance of success.   I have known of Jamie Davidoff of Spark Success Coaching and have known of her proven track record as a leader in her prior business, so I asked Jamie to come and work with our team.
Working with Jamie has pulled our team together, working together towards our common goals that are outlined in our Vision and Mission statements.   Jamie's guidance through this process was indispensable and now gives us a baseline from which we can always refer back to and use to redirect ourselves in the future. 
While we have just recently gone through this process, time will tell what it will do for our productivity, but we anticipate it will have a profound effect on our business.   We have a vastly improved corporate culture and people are now able to focus wholly on increasing their business as well as improving aspects of their personal lives.  The goal setting and business planning portion of Jamie's coaching will also help each and everyone of our members in having control over their businesses and, therefore, will allow them to identify problems early enough to correct them.
I have no hesitation in recommending Spark Success coaching to your corporation or business.   You, your employees and your business will benefit from many perspectives.
–D.S.
I was looking for options outside of my organization to support my personal and professional growth. Our organizational resources were limited – financial for certain, but, more critically, the dedicated, one on one time for mentorship, guidance and leadership I was seeking. I had been in my role for quite some time and was really looking for the support to grow at a more strategic level. We specifically focused on building influence, communicating to influence outcomes, and strategic thinking. In addition, I had a vision for the future – 'my dream' – and was looking for guidance and support in flushing out that vision.
The confidential and sensitive nature of my role can be very isolating, particularly in a small organization. There really wasn't anyone to brainstorm with, to bounce ideas off of, or even to talk through different scenarios and outcomes. My sessions with Jamie were those brainstorming sessions and she challenged me to see the world differently. Sometimes our sessions were guided conversations that culminated with an actionable plan to approach situations differently and at other times the sessions were opportunities to reflect on my strengths and the value of my own perspective and approach.
I appreciated having someone hold me accountable and be my accountability partner. It was incredibly motivating for me, particularly without the availability of the leadership and guidance, to have someone who could both challenge me and be my champion.
Over the course of the year we also worked together on my 'dream'. Jamie really helped me on the road to planning for my dream to be a reality and, again, encouraged me to explore the possibilities, focus on the what could or will be, and to be realistic about the journey.
Though not a measurable result, my 'a-ha' moment was one of self-reflection. I understood that, while we all need to be flexible and adaptable to succeed as a part of a team, a family, in relationships or, more broadly, as a part of an organization or community, you still need to be true to who you are, speaking, leading, and behaving in a way that is aligned with your core values. It is what we all bring to the table – in teams. families, relationships, and as a part of our organizations or communities – that makes each one of those experiences unique. Through my coaching sessions, I was able to see and embrace the value of my own perspective as an important and critical factor in my professional and personal journey.
From a professional standpoint, my self-confidence increased as a result of our sessions. With Jamie's support, I developed actionable strategies that enabled me to influence outcomes, communicate more effectively, and operate at a strategic level. Though I am not always working in the way I'd like to be, many of our conversations serve as a compass to bring me back on course.
I have confidence in knowing that, in those conversations, Jamie was my guide, but that the answers were within me.
–J.G.
Let's stay in touch. Sign up for our mailing list to learn more about our Positive Impact Leadership and Organizational Culture Initatives.